HTTPS://www.pipperontour.com/blog2/refugio-perros-burgos
…
The presentation of Pipper's comic, instilled on respect for animals, educating people in this respect, not to animal abandonment…. You can get yours signed by Pipper the days; Wednesday 27
de noviembre de 19.00h a 20.30h librería La llave
.
Pje Fernando de Rojas
5.
Viernes
29
de noviembre de
19:00
h a 20.30h
,
librería Mar de Hojas
, Plaza Mayor 31.
No dejes de seguir a pipper en redes sociales.
,
no te quedes sin su cómic merece la pena de verdad
.
Muchas gracias por vuestra visita ha sido un placer.
.
HTTPS://

www.facebook.com/1839363346113904/posts/2752304024819827/

?

app=fbl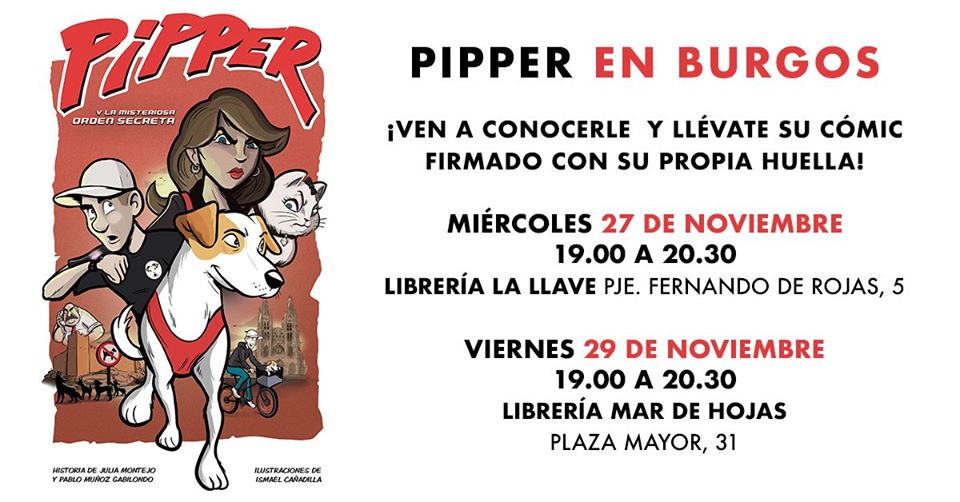 Pipper This morning at the shelter we had a very special visit. Pipper an influencer puppy that together with Pablo its owner have started an innovative Beautiful initiative to tour throughout Spain visiting and unveiling dog friendly tourism, visiting animal shelters and being the voice of our work.